Is The Canon RF 100mm Lens Any Good? What Photos The Lens is Good For
It's the first RF lens I ever bought and it's about time I share my review. Specifically, this post seeks to answer the question of whether the Canon RF 100mm lens is any good. We'll also break down what types of photography the RF 100 macro is good for shooting and where it falls short.
The overall conclusion is that the Canon RF 100mm macro f/2.8 L is worth the money. You get an advanced optical design, fast focusing, weather sealed lens. It produces sharp photos using powerful image stabilization in less than ideal lighting situations, making it ideal for macro work, shooting portraits, and landscape photography.
Certainly, this lens is a specialty lens, and on the surface that means it has limited uses. That doesn't automatically disqualify it as worth its substantial price tag, but it does make it a worthwhile exercise to examine the pluses and minuses before you invest in a high priced 100mm macro lens.
If you're a numbers person that likes to do comparisons, here is my post the specs and worthwhile features on this lens and the results of my optical tests on this lens.
What's The Canon RF 100MM f/2.8 Good For
Here is a list of and explanation for the 5 different types of photography that the Canon RF 100mm f/2.8 macro L is good for
1. MACRO. Like other macro lenses, the RF 100mm lens focuses closely and is intended to use for shooting close-ups. But this lens is different. It excels as a macro photography lens. Many lenses that are marketed as "macro" don't even achieve a true macro, 1:1 subject to image size magnification ratio. This Canon lens exceeds that ratio significantly.
"In Your Face"
The RF 100mm lens gives you an impressive 1.4x magnification ratio. This makes it an outstanding lens choice for shooting the smallest of subjects and getting ultra close compositions. Of course, you can simply back up a little to get a slightly less magnified subject, and the auto-focus works from infinity down to 10 inches.
1 to 1 macro magnification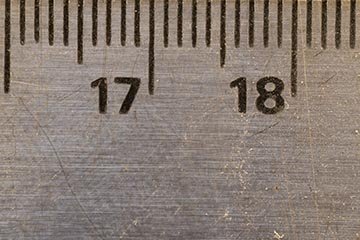 1.4 to 1 macro magnification
See the comparison above of the dramatic difference a 1.4x magnification gives you compared to a 1:1 macro magnification. Equally important when shooting macro shots is focusing accuracy. The RF 100's Nano USM focusing motor performs impressively in that department.
Even the slightest error in focusing is magnified with macro photography, so this is a key advantage with this lenses design.
2. INDOOR SPORTS. The relatively fast f/2.8 maximum aperture is good for letting a lot of light enter the camera and enabling you to use fast shutter speeds to freeze the action in front of you.
Indoor lighting is not ideal for sports photography, so the fast maximum aperture is appreciated. The RF 100 lens is also a fast focuser, having dual nano USM motors running the show. It works best in smaller venues where you're not too far from the action. Basketball, wrestling, gymnastics, tennis, and youth soccer are good examples.
3. PET PHOTOGRAPHY. Everyone loves photos of their beloved pets and the 100mm focal length is a good one for taking photos of your favorite friend. This old dog doesn't run a round to fast, but if he did, the fast f/2.8 lens is good for action shots in the back yard.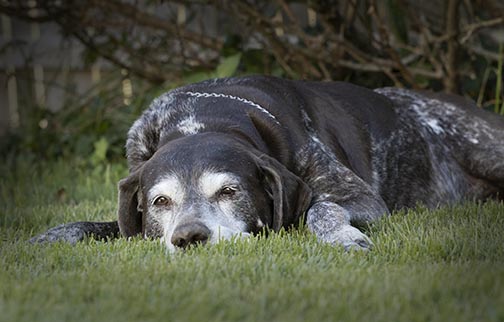 13 Year-old Kaiser
Lenses that have wide maximum apertures (f/2.8 and larger) allow for fast focusing and fast shutter speed to "freeze" any motion with a moving target. The Canon RF 100mm f/2.8 L macro lens gives you the right magnification to frame in a cat, dog, rabbit, or reptile.
Okay Bruce, so the lens is good for pet portraits, but you want to know if you can use the RD 100mm macro lens for portraits of people. Let's answer that question now.
---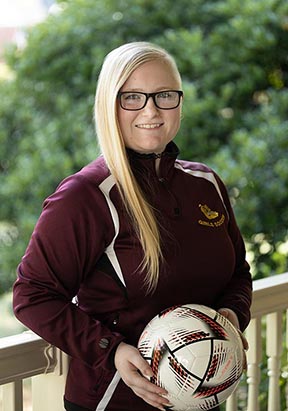 Canon EOS R Camera
Canon RF 100mm Macro L Lens
4. PORTRAIT PHOTOGRAPHY. The 100mm focal length is a good one for shooting head shots, 3/4 length and full length portraits of individuals. You get a pleasant blur quality in the background because of the focal length and optical design of the lens.
The perspective produced from a telephoto lens like this "flattens" the perspective and gives you a pleasing rendition of the subject without any spatial distortions.
It's beneficial to your subject's emotions not to feel intimidated by the camera invading their space. The 100mm focal length gives you a comfortable working distance between you and an individual subject.
Additionally, the RF 100mm macro lens is ideal for shooting family portraits. You get a comfortable working distance particularly when shooting outdoors.
---
A 100mm focal length is good for small family portrait compositions
5. LANDSCAPES.  The Canon RF 100mm macro lens is good for shooting detailed landscape photos. Yes, I know the normal though thought process is to use is a wide angle lens to get those inclusive scenic views, but some of the most interesting landscape photos can be in the details.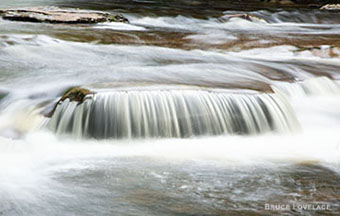 Mini Waterfall at Ricketts Glen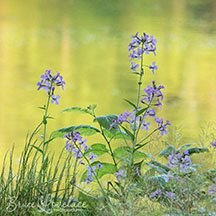 Summer By The River
The flatter perspective you often get when using a telephoto lens for landscapes emphasizes textures and colors. The 100mm focal length will allow you to isolate objects and often give you tighter, simpler compositions. Here are some additional samples images taken with the RF 100mm macro lens.
Where The RF 100mm Lens FAlls Short
ARCHITECTURE. Photographs of entire buildings, particularly tall ones, should be photographed with wide and ultra wide lenses. Not only will wide angle lenses be easier to use to include the entire structure, but you can get more interesting, stronger perspectives using wide angle lenses.
Typically, architectural photographers use lenses with 14-35mm focal lengths, including the 17mm tilt-shift lens.
LARGE ROUP PORTRAITS. Larger groups of people can't be photographed with a 100mm prime lens, especially if you're shooting inside. You'd have to back up your vantage point to a large distance in order to fit everyone into your pose. The 100mm focal length is good for small group photography.
INTERIORS. Although it's fast for a medium length telephoto lens, it's narrow angle of view makes it a poor choice for photographing in smaller confined spaces. Close-up detail photos, small subjects, and macro photos are the exception to this as the Canon RF 100mm f/2.8 lens excels at close-up detail shots.
SPORTS. Although it's fine for certain indoor sports where you can position yourself close to the action, the Canon RF 100mm f/2.8 is not considered a sports lens. The 100mm lens is not powerful enough for the majority of outdoors sports that use large venues to play.
The action is too far away in large stadiums or on large fields. The RF 100mm lens can be used, however, for several youth sports such as basketball, wrestling, and gymnastics. 
SELFIES. Both selfie photos and videos work much better when you use a wide angle lens. The RF 100mm lens has simply too narrow of a view at such a close distance.
WILDLIFE. Birds and other wildlife are either too far away, too skittish to get close to, or too dangerous to photograph from a close distance. Wildlife photography is greatly enhanced with lenses having 400mm or greater focal lengths. 
The exception to this is tame animals or those that are confined to smaller areas and more closely observed like the fenced in animals at the zoo. Even then, many of the larger, more enticing subjects like lion, tigers, and bears require more magnification than a 100mm lens is going to provide.
Canon RF 100mm Lens Summary
The Canon RF 100mm macro L lens is an outstanding macro lens for several reasons, but it can also be great for other types of photography as well. It is fully compatible with all of the "R" mirrorless cameras, both full frame and crop.
If used on one of the mirrorless "crop" cameras, like the R7 or R10, realize your angle of view will be narrower, making it essentially like using a 160mm lens on a full frame camera.
Five good ways to use the Canon RF 100mm Macro f/2.8 L lens
Alternatively to 100mm focal length lens, there are shorter Canon RF mount macro lenses worth considering. The 85mm f/2.0 is a half stop faster and is half the price of the Canon RF f/2.8 macro lens. The wide angle Canon RF 35mm f/1.8 is even faster and costs less than the 85 f/2.0.
You may also want to look at the RF-S 18-150mm. It's not as fast, but it does shoot macro photos and its 8.3X zooming poser makes it extremely versatile.
---
As an Amazon affiliate Canon Camera Geek receives a small commission from qualifying purchases, at NO added cost to you.
---
---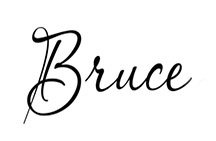 Bruce Lovelace is the publisher of Canon Camera Geek. Read more about him on the About Page. He also publishes how to articles and camera gear reviews at the Photography Tips website.
View some of Bruce's photos on Instagram  and Flickr.   Join the tribe of followers on YouTube. Bruce also runs photo workshops and provides 1 on 1 digital photography coaching.
---
---