Is a Canon 70d Bundle Any Good-Is it Worth it to Buy a Bundle With 70D
WRITTEN BY: BRUCE LOVELACE
PUBLISHED ON: NOVEMBER 7, 2023
The question still comes up if a Canon 70D bundle is still a worthwhile purchase. In my mind it took over the old faithful Canon t3i as one of Canon's DSLR offerings that stands up against time better than most cameras.
70D Bundle Update
Here are the main reasons why a Canon 70D bundle still makes sense.
PRICE:  You can get 70D bundles for less than $500. Although it's not as advanced as the Canon 90D, it's priced much more affordably than the 90D. There are still several different 70D bundles that you can choose from, depending on the lenses and other accessories you want to use.
IMAGE QUALITY: The 20 MP sensor and Digic 5+ sensor will give you excellent image quality. The low-light performance is very good.
FEATURES: The dual-pixel auto-focusing that the 70D has is a superior technology. The tilting touch screen makes the Canon 70D both fast and versatile.
VIDEO:  The Canon 70D can shoot Full HD video at up to 1080p60
Canon shooters today still rate the 70D very highly. Although mine was, professionally, a backup to my 5D Mark III for many years, I loved its size, it quick focusing, and image quality. You may have noticed I used "was." I've since upgraded my 70D to a 90D.
Don't despair. You don't need the latest and greatest camera to take amazing photos. The 70D is more than just capable. In fact, it is far superior to the Canon 10D and 20D cameras that I shot with professionally before the full frame 5D I came out.
I bought my 70D all by itself
(Shown with my 10-18mm Lens Attached)
The Canon EOS 70D is still a good camera, despite the fact that is was first released in 2013.
The dual pixel focusing, the 7 frames per second, the articulating LCD touchscreen, 1080 HD video shooting, 20.2 megapixel sensor, and the number of 70D cameras still on the market at cheap prices make the camera a great value.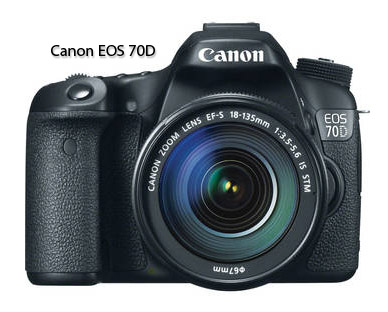 What would be the advantage to getting a Canon 70D bundle rather than buying a 70D and just the accessories as you need them? SAVING MONEY on the camera, a lens or two, and related accessories.
To help answer this question more completely, let's look at the type of bundles for the Canon 70D that are available right now in the marketplace.
Canon 70D Bundle with Lenses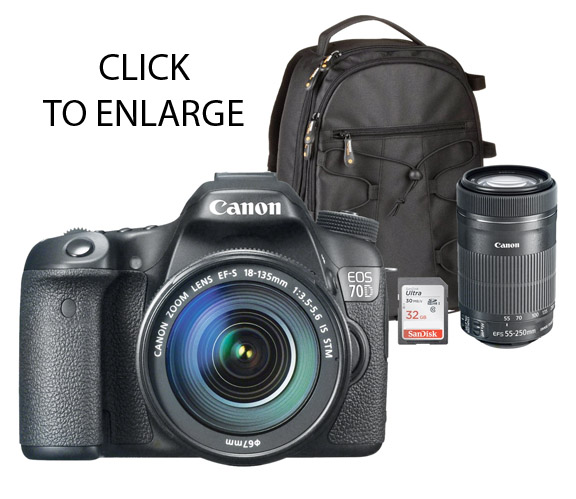 I am doing this comparison with the prices that are currently on Amazon.  
Of course, prices are subject to change and there are other places to shop for good camera packages.
It's a good place to start because of the huge number of variations that are offered there.
This kit comes with the 70D body, the 18-135mm lens, the 55-250mm lens, a memory card, and a Basics camera bag.
typical bundle
This is how a typical 70D bundle could save you money. If you buy the items separately they cost more than buying them as a bundle.  See the example below
Current cost of the bundle:  $1650
Cost of items sold separately:  $1850
Savings = $200
90 % of buyers rated this purchase a 4 or 5 star buy.
---
Complete 70D Camera Bundles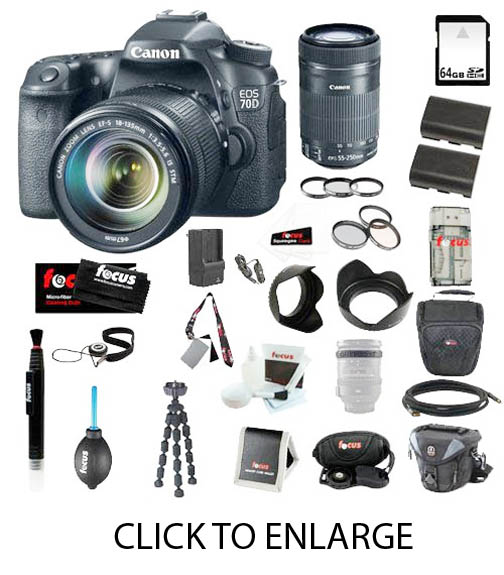 I call the bundle like this the"Everything but the kitchen sink" bundle.  
The crazy thing about this deal, at the time of the writing of this article, it's the same investment as the two-lens deal mentioned above.
The advertised savings are listed as $1350.  Same body and two lenses, larger capacity memory card, camera case and more than 1 dozen extra accessories.
Sounds like a no-brainer?  Maybe.  You could keep what you need out of all those accessories and sell the rest on eBay.
Bundle Buying Advice
It's really great that so many options exist, but there is a drawback.  It can be a bit confusing when so many options exist.  Here is a suggestion.  
Come up with two lists; the first one with all of the accessories you really do need, and a second list that includes those needed gadgets plus the ones that you'd like to have.
Now, go for a compromise by looking for a bundle that puts you somewhere in the middle and that you can still afford.
My Favorite 70D Bundel
This is just my own personal bias for the best bundle for the Canon EOS 70D.  The choice of lenses is by far the most important accessory included in any bundle for any camera system.
After all, you've got to have a lens attached to your 70D for every single photo you take. The Canon EF-S 18-55mm is the most desirable lens to have because of its relatively small size and its versatility.  It covers the majority of shooting ranges with its 18-55 (Approximately 28-90 equivalent) in a take-it-anywhere size.
Some would definitely argue that the 18-135mm lens would be the lens of choice if you are limiting yourself to just one single lens and that is a matter of personal choice, but it makes sense to me too.
In terms of a bundle, I think the best combination is the 18-55 combined with the 55-250 makes the most sense.
In terms of a bundle, I think the best combination of lenses is the 18-55 and the 55-250, giving you a great range of zooming with only 2 lenses.
Customized 70D Bundles
One of the cool features of some of the Canon 70D bundle packages is that you can customize them on Amazon with different options that fit your needs.  
You can click on the different options and see how your choice affects the price. Have a blast with your photography.
As an Amazon affiliate Canon Camera Geek receives a small commission from qualifying purchases, at NO added cost to you.
If you are looking for a high-quality DSLR camera that is still capable of taking great photos and videos, then the Canon 70D is a cheap option. Especially a used 70D camera body. The 70D is a versatile camera that is perfect for photographers of all levels.
See the advertisement for KEH on this page.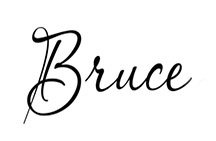 Bruce Lovelace is the publisher of Canon Camera Geek. Read more about him on the About Page. He also publishes how to articles and camera gear reviews at the Photography Tips website.
View some of Bruce's photos on Instagram  and Flickr.   Join the tribe of followers on YouTube. Bruce also runs photo workshops and provides 1 on 1 digital photography coaching.
Canon Geek on Google My Business
---
---