Which Canon Kit Lens is Best. Guide to Best Kit Lens For Your Camera
My First Canon Kit Lens
18-55mm F/3.5-5.6 II
This Canon kit lens guide will give you what you need to know about these beginner lenses for your Canon camera. It includes my recommended 3 kit lenses to use with your Canon.
This post answers your questions about the kit lenses from Canon, gives you a compatibility table for the Canon cameras that can take kit lenses, and includes sample photos of what kind of photos a kit lens is good for taking.
Kit lenses are hands down the best lenses for newbie Canon shooters and there is a surprising number of appealing lens options for you to go with when you're buying a new or used Canon camera.
The most popular sized kit lens is the 18-55mm, but as you'll see, there are other attractive options. There have been nine 18-55mm kit lenses released to market since 2003, but don't worry, we're going to simplify everything for you.
WHAT ARE KIT LENSES. A kit lens is a starter lens that is usually sold along with a camera that has interchangeable lenses. Canon has several kit lenses. They can be bought separately, but are often sold along with the camera (as a kit) to save you money.
You can use the name "starter lens" and kit lens interchangeably. They're more affordable because they are general purpose lenses and not typically the manufacturer's highest quality of lenses.  
My confession: For many years, as a pro photographer, I had a bias against kit lenses. I had entered the age of digital photography needing pro lenses for my full frame Canon cameras. Now that the APS-C crop cameras are so good, it make complete sense to look at kit lenses with renewed interest.
You could use a non-zooming prime lens as a starter lens, but zoom lenses are much more versatile. All standard Canon kit lenses give you a range of zoom settings that include wide angle through telephoto, but there are significant differences that beginning lens shoppers should know about.
The question arises if the 18-55mm lens is good enough. For beginners it provides a decent range of coverage, ranging from moderate distant views of your subject to moderately closer perspectives of a variety of subjects.
18-55mm Kit lens zoom range
The standard Canon kit lenses have a zoom range of about 3x. Compare the photos of my backyard below to see how much zoom a 18-55mm kit lens gives you.
Canon kit lens at 18mm
Canon kit lens at 55mm
Going from the wide angle view at 18mm to the narrower telephoto angle of view at 55mm is a 3x change. You can do landscape photography reasonable well and shoot more up-close detailed photos of your subject without switching lenses.
Only the wide angle zooms have less of a zoom range, such as the popular 10-18, and the 17-40.
video examples of kit lens zoom range
Here are 3 different examples of what a 3x zoom range actually looks like. Pardon the amateur editing. I'm not an accomplished video editor:
---
are canon kit lenses any good
Yes! Are they great? No, but you don't need a great lens to take great photos. Think about it. You won't automatically become a great golfer if you go out and break the bank on a set of professional clubs. A decent set of clubs and great technique will give you a great golf game.
The same is true for your photography. A decent lens and good technique will give you great photos.
You want to start with a decent set of golf clubs, walk the course, learn how to swing, and improve your skill. Then consider an upgrade of your clubs when your game has improved enough. Down the road you can upgrade your Canon lens once you've progressed as a photographer.
If one of your Canon lenses disrupts your ability to take the kind of photo you want, then it's no good. Canon kit lenses have evolved quite a bit since the first 18-55mm kit lens was introduced in 2003.
history of 18-55mm Canon kit lens releases
This history of kit lens releases show that there were 6 different years for the releasing of 9 different 18-55mm kit lenses by Canon, 3 of which were only initially available as a kit. All of these lenses had maximum apertures of f/3.5 at their 18mm settings (except the 2017 release) and f/5.6 at the 55mm setting.  
The very early models of the kit lenses just don't stack up too well against the newer ones in terms of the value of the lens, so I can't really recommend them unless you're restricted by a very tight budget. If that's the case you should look to KEH Camera for a used Canon kit lens.

The newer lens you get, the better the quality and the higher the price.
The lenses bult and released after 2012 are the best ones for you to consider. Like every single lens that is built by every single lens manufacturer, they all have defects. It's all a matter of whether those small defects really matter and are noticeable in the photos you take you take and will the lense take the kind of photos you like.
One of the yardsticks lens reviewers like to talk a lot about is the properties of lens sharpness and also lens blurriness.
canon kit lenses and bokeh
Another specific question Canon shooters have is whether you can achieve a nice out-of-focus background, also known as bokeh. I took a stroll with my dog on Easter morning and grabbed this shot of a flowering tree.
I used 4 specific steps to maximize the quality of the blurriness of the background. They're covered in more detail in these posts on controlling depth of field and bokeh.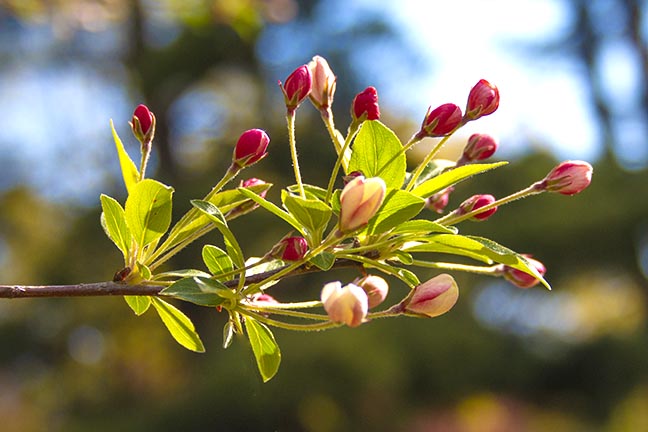 Lens set at 55mm. Aperture set at f/5.6. Close subject and distant background
This is how you get the best bokeh with a Canon kit lens
Extend the lens completely to 55mm.
Keep a good distance between the subject and whatever is in the background.
Bring down the aperture size as low as possible. At 55mm, the maximum you'll be able to open up is f/5.6. 
Compose your shot, focus on the most important part of your subject and click.
canon kit lens compatibility table
If you want to know what cameras the Canon kit lenses fit on you can take a quick look at the compatibility chart below. Kit lenses fit on the majority of Canon entry level, hobbyist and prosumer DSLR cameras.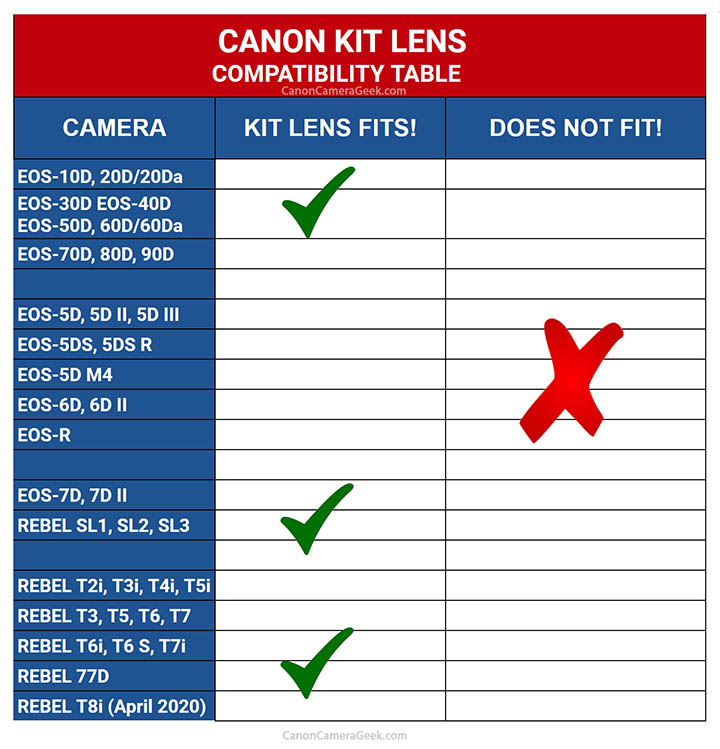 Kit lenses are named EF-S lenses and fit on the smaller Canon APS-C cameras.
I purposefully excluded all of the Canon pro cameras as they are all high end, full frame cameras that kit lenses will not fit. One of the biggest appeals of a kit lens is that it will fit on any APS-C cameras that Canon releases in the future.
Now, let's dig into what the Canon kit lenses are good for, what kind of photos can you take with a kit lens.
canon kit lens sample photographs
Having a wide angle to telephoto range of views make the Canon kit lens versatile and the kit lens can be classified as a good general purpose lens. That means it's suitable for all the typical types of photography you'll want to use it for. Here are just a few sample photos taken with my 18-55mm lens to include in this post.
You can use your kit lens whenever you're out for a walk. The best way to increase your chances of getting great photos is to always have your camera with you. The Canon 18-55mm lens works fine as a nature photography lens.
Canon 70D, Canon kit 18-55mm lens @55mm, f/8.0 @ 1/1250.
Cropped in Photoshop
I like to shoot detail shots when I'm out for everyday, run-of-the-mill walks. When I'm on a photo excursion at those special, more distant grandiose locations, then I shoot more wide angle, inclusive views.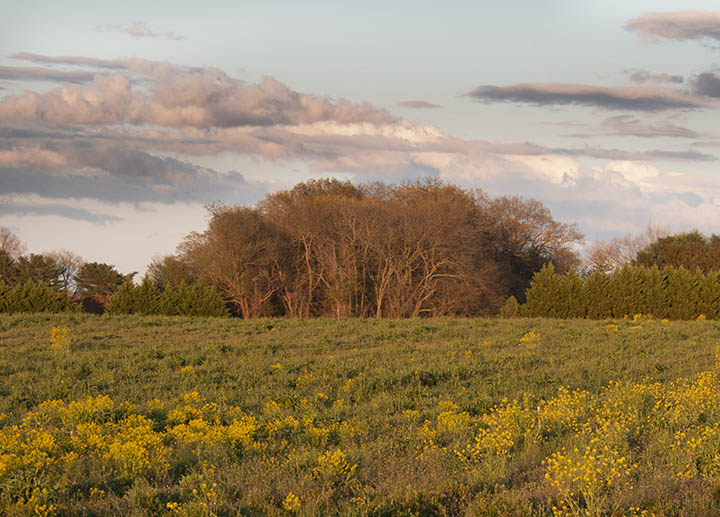 Distant Landscape at Sunset
Photo taken with Canon 18-55mm @55mm, f/9.0 @ 1/160. Cropped in Photoshop.
The sun was close to setting directly behind me in this landscape photo of the field of flowers and distant trees. The remnants of a storm included a few clouds with interesting lighting provided by the low angle of the sun.
You can also use the 18-55mm to shoot close-up photos of all kinds of subjects in and around your home. Flowers are always a welcome subject for you to shoot up close with your kit lens. 
macro photography with a kit lens?
Although it's not a macro lens, the Canon kit lenses do have good closest focusing distances. Macro lenses will certainly get you even closer, but you have the option of cropping your photo afterwards.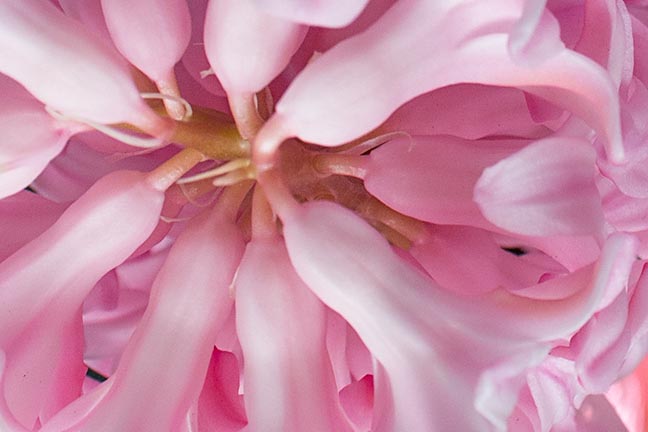 Canon 70D, Canon 18-55mm @18mm, f/6.3 @ 1/160. Cropped in Photoshop
I shot this architectural photo of a new hospital with the kit lens focal length zoomed to 24mm. That lens setting was plenty wide enough to fit the entire building in.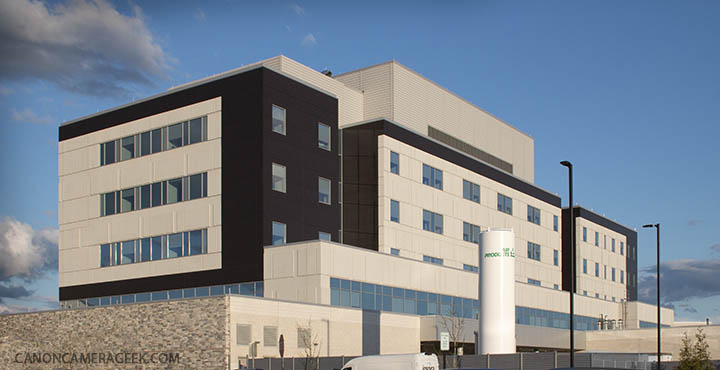 Canon 70D, Canon 18-55mm kit lens @24mm, f/9.0 @ 1/500.
I had to wait for the sky to clear after a horrific thunderstorm to get this shot late in the day, but the lens was fine for taking this type of architecture photograph. 
what about shooting portraits with a kit lens
Kit lenses can be used for medium distance portraits. I shot this selfie (reluctantly) with my kit lens to show you a pleasing perspective can be taken with your 18-55mm lens set at 55mm.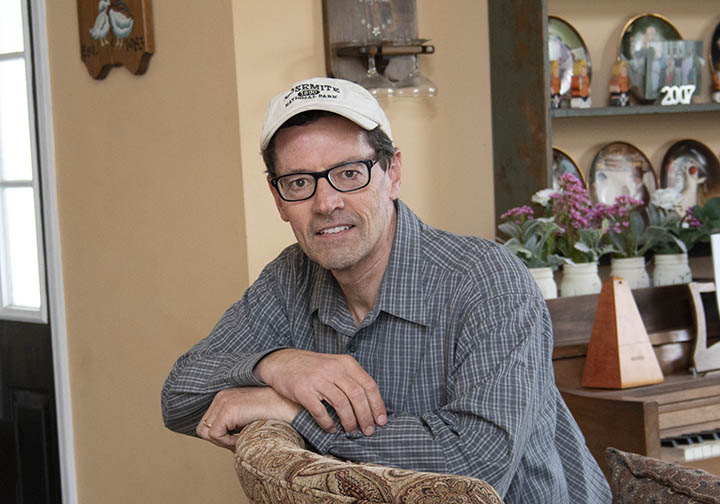 Canon 70D, 18-55mm lens at 55mm.
Distance from camera to subject about 8 ft.
With the lens zoomed to a 55mm setting for shooting portraits, you can have a comfortable working distance for an environmental portrait like this one. In addition to the importance of lens choice, portraits need an uncluttered background and flattering lighting to be successful.
kit lens for shooting wildlife
The Canon 18-55mm kit lens should not be considered a good candidate for shooting wildlife, unless you're shooting at your local zoo. It simply doesn't have enough magnification to get close to distant subjects like this goose swimming in the middle of this pond.
Bird photography requires a more powerful lens than an 18-55mm kit lens.
video: why kit lenses are CRITICIZED
In defense of kit lenses, we take a look at defending the choice of using a kit lens versus a pro lens in the following video.
---
canon kit lens for full frame canons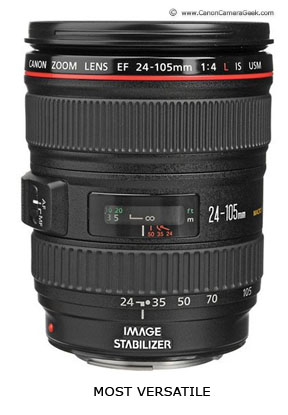 Canon 24-105
The common use of the term kit lens refers to a beginning lens for one of the smaller crop (APS-C) Canon camera bodies. To be accurate, there are lenses, like the 24-105 f/4.0, that will fit on full frame cameras as well as APS-C crop cameras.
True, they are sometimes sold with the cameras as "kits," but in the world of common photography jargon (and this context of this post), kit lenses are the smaller lenses that fit on the smaller crop sensor cameras. The Canon 17-40, and the Canon 24-70 could also be sold as kit lenses with full frame cameras.
my 3 favorite Canon kit lenses
Here are my top 3 recommended kit lenses for your Canon APS-C crop sensor camera. They are in order of my own preferences.Your order may be different.
As a shooting pro I have a budget for investing in lenses that gives me justification for spending money on equipment. Your justification can simply be because you deserve to splurge once in a while.  As they say, "the difference between mens and boys is the price of their toys." this holds true for the ladies too.
1. CANON 18-135MM USM.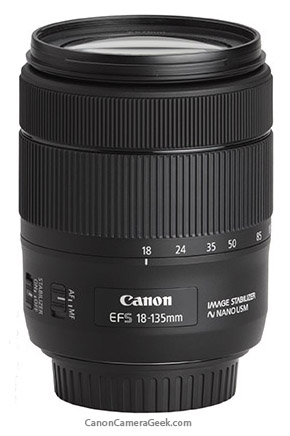 My favorite kit lens is the newer (2016) 18-135mm IS (NANO). I ordered it to go along with my Canon 90D when I upgraded from my 70D body. If you're interested in getting just one lens, and don't want to mess around with carrying or changing to a 2nd lens, consider the Canon EF-S 18-135mm f/3.5-5.6 IS USM.
Despite its substantial 7.5x zoom range, the typical barrel distortion, pincushion effect, and chromatic aberrations that come with lenses of this type aren't too bad at all with this version. Although you may not be able to shoot ultra wide landscapes (10mm) or very distant birds in flight (400mm), it really is a very versatile lens, capable of satisfying a big array of photography subjects.
Yes, it's a bit pricier, and a little bit bigger than the standard 18-55mm kit lens, but its value is well worth the extra dollars. Here's the post on whether the 18-135 is any good.
2. CANON 18-55MM USM.

My 2nd favorite kit lens from Canon is the most recent 18-55mm lens, released in 2017. It differs from all of the other 18-55mm lenses because its maximum aperture is f/4.0 rather than f/3.5. That's only 1/3 of an f/stop slower. The plus side of getting this lens with a slightly larger maximum aperture is that the lens is both smaller and lighter.
It's really a fine quality lens at a budget price and that's why it's the most popular Canon kit lens on the planet. Whether you buy it as a kit with a new camera or get one separately, you can't go wrong.
3. CANON 15-85MM.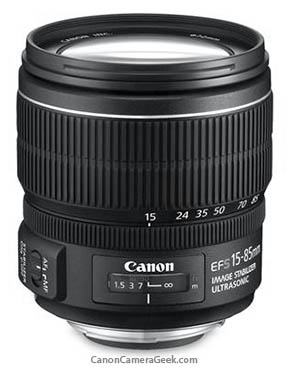 The third place recommendation is also a bit less mainstream, the 15-85mm. It's a compromise between the 18-55 and the 18-135. At the wide end, it's got a wider angle of view. The difference between 15mm and 18mm is more significant than you think and comes in handy for shooting wide landscapes, large architectural subjects, and interior photos in small spaces.
For many, the price tag will be too much to stomach. Its cost is even more than the 18-135, likely because of the extra wide angle abilities and image quality. It has 3 aspherical lens elements and a UD glass element which is why the image quality is so good. If you've got the dough to spend and you'd like to shoot landscapes, this lens could be the perfect kit lens for your Canon.
Have a blast, shoot a Canon!
As an Amazon affiliate Canon Camera Geek receives a small commission from qualifying purchases, at NO added cost to you.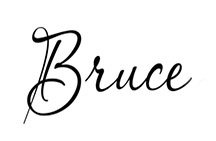 Bruce Lovelace is the publisher of Canon Camera Geek. Read more about him on the About Page. He also publishes how to articles and camera gear reviews at the Photography Tips website.
View some of Bruce's photos on Instagram  and Flickr.   Join the tribe of followers on YouTube. Bruce also runs photo workshops and provides 1 on 1 digital photography coaching.
---
---
---
---
---