What Is The Canon RF-S 18-150mm Lens Good For. Is It Worth The Money ?
See if the 18-150mm zoom is good for your photography
It comes as a kit lens with the Canon R7, but what is the Canon RF-S 18-150 good for? This post will look at the specific type of photography that the 18-150 lens is used for. As soon as I got this lens, along with the R7 camera, I started testing it in different shooting situations.
The list and details of the appropriate type of photography for the 18-150mm lens is coming up, but I'll start with this general statement:
The Canon RF-S 18-150mm is a great walk-around, all-purpose lens, good for both the full frame and crop APS-C Canon mirrorless "R" series of cameras. It's compact size and 8.3X zoom range make it very versatile to handle most types of photography.
The RF-S 18-150mm zoom range makes it well suited for photographing wildlife, landscapes, macro, portraits, street photography, and travel photos.
Photography Types With The RF-S 18-150 Lens
While the RF-S 18-150 lens is a solid performer as a take-anywhere, general purpose photography, you're likely curious about its performance with the specific genres of photography that you shoot. The main reason it's such a useful lens is its
29-240mm full frame equivalent focal range. Here is the list:
CANDID PHOTOS
The 18 to 150mm zoom range will enable you to shoot all your candid photos without having to switch to another lens. Candid photos are often left to shooting with smartphones these days, but the image quality and optical zooming you get with the 8.3x zoom range of the RF-S 18-150 lens are far superior.
Candid photo of child with grandmother
Lens set to f/5.6 at 56mm focal length for 1/200 second
The candid photo above was shot with the RF-S 18-150mm lens zoomed to about the halfway point between wide-angle and telephoto range of focal lengths. This framed in the subjects nicely without disturbing the activity that was occurring.
MACRO PHOTOGRAPHY
The RF-S 18-150 lens does a great job with getting in super close to capture details of the amazing world we live in. Macro photography is most often done with flowers and insects, but there are so many more possibilities for crating visually interesting images at the macro level.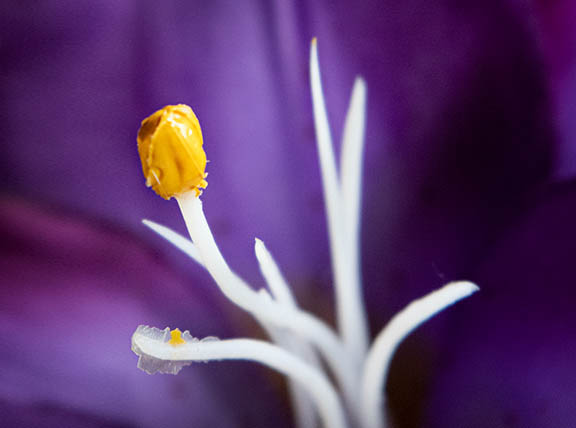 Macro photography with RF-S 18-150mm lens
Shot @ 1/250 second, f/6.3, ISO=2500 with lens at 150mm.
Cropped edges to improve composition
I took the photo above hand-held, without a tripod. Macro photography can sometimes be challenging when using smaller apertures to gain more depth of field and sharp focus of your subject. The shutter speed can get slow and that can lead to camera shake and motion blur, especially when your subject is magnified up close.
The RF-S 18-150mm lens has images stabilization rated at 4.5 stops, making it great for maintaining sharpness in more dim shooting situations even with slow shutter speeds.  See my test of the RF-S 18-150 lens image stabilization.
PORTRAITS
The RF-S 18-150 has an ideal range of zoom settings for portraits. It's good for large group portraits, to individual full-length photos, to headshots. The maximum f/stops of f/3.5 through f/6.3 are wide enough to intentionally blur the background behind your subject if you use the right technique.
Canon R7 and RF-S 18-150mm lens at 18mm
Great for taking on a strenuous hike in the mountains
Group portrait and scenic background.
Whether it's a candid outdoor portrait like the one above taken with
using the self-timer, or a posed head shot taken in a studio, the RF-S
18-150mm is a good lens choice for shooting portraits.
Compare the two portraits below. My photographer stood in the same spot to take both images.
Head shot at 150mm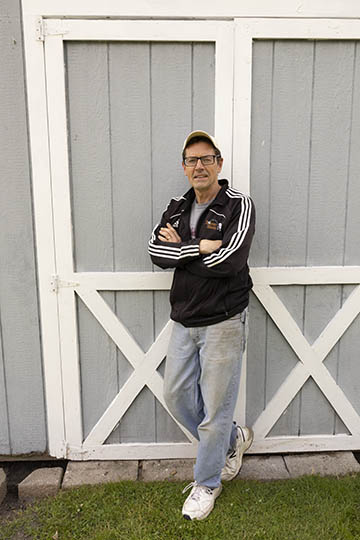 Full length portrait at 18mm
The only difference is that the lens was zoomed to opposite ends of its 8.3x zoom range. This is why I say this lens is so versatile for shooting portraits.
NATURE PHOTOGRAPHY
The compact size of the RF-S 18-150 lens make it ideal for taking along on your nature walks. In my case, I gave the 18-150 lens a test drive with it stowed on my R7 camera secured in a belly bag as I rode to a few locations on my bike.
In the photo above of the water fountain I was able to use the versatility of the 18-150 zoom to try a few different distances and lens zoom settings to get the framing and composition the way I wanted. It's a pleasure to be able to shoot with variety like this without having to change the lens.
Likewise with the photo below, I tried a few different perspectives until I settled on using a 50mm lens focal length setting to get my composition to include the Canadian geese, the water fountain, and the shoreline of this small pond near my home.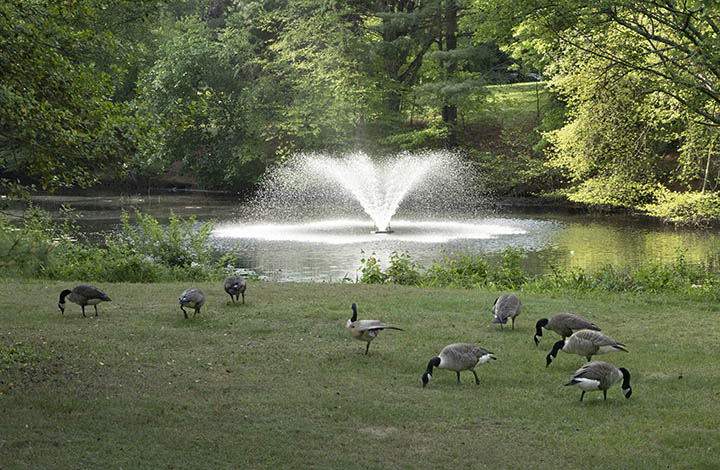 Park Scene taken @ 50mm
LANDSCAPE PHOTOGRAPHY WITH THE RF-S 18-150mm
18mm wide view from Pinnacle Rock
The 18mm wide-angle focal length is good for shooting landscape photos. The 18mm focal length gives you a nice wide angle of view of
64°
from side to side to capture scenic vistas. Alternatively, you can zoom in to 100 or 150mm to get those detailed landscape photos.
Architecture
Generally speaking, architectural photographers want the widest lenses available on the market. For APS-C mirrorless cameras that includes the Canon RF 14-35mm f/4 L IS USM Lens, as well as the EF-S-18mm or 10-22mm with one of the EF EOS-R adapters.
Architectural photo taken with lens at 18mm
The RF-S 18-150 is adequate, but not ideal for architectural subjects. You can get nice shots like the student recreation center above,
Another alternative for shooting high level architectural photography is to take advantage of the tilts and swing capabilities of a professional architectural lens like the Canon 17mm TS-E lens attached to a full frame sensor camera, like the affordable Canon R.
SPORTS PHOTOGRAPHY
It really depends on the specific sport and the specific venue that
you're shooting to determine whether the Canon RF-S 18-150mm f/3.5-6.3
lens is any good for shooting sports.
Generally speaking, faster lenses
are the best choice for shooting sports and other action photos.
When zoomed in fully to 150mm, this lens has a maximum aperture of
f/6.3. That's too slow for many sporting events, especially those that
are being held indoors (unless you raise you ISO to its higher
settings).
1/60 second, f/6.3, ISO=6400.
Plenty enough zoom reach, but
challenging if lighting is dim
I shot this 3 year old soccer player in a very dimply lit facility and had to use ISO 6400 to shoot at 1/60 second at f/6.3.
An f/2.8 lens would have given me a faster shutter speed and/or a lower ISO setting for the best image quality in this darker environment.
If you're photography your kids outdoor soccer game, baseball contest, or outdoor swim meet on a sunny day, the 18-150 f/3.5-f/6.3 lens will be fine.
As an example, in the image below, I got a great daytime baseball photo at a Phillies game from a12th row seat on the 3rd base side of the stadium.
In bright sunlight, I used my RF-S 18-150mm f/3.5-6.3 at full zoom. Exposure was 1/1600 second @ f/6.3, ISO=400. Notice the "rolling shutter" effect resulting from the combination of the super fast motion of the bat and ball with the super fast shutter on the Canon R7 that only exposes a portion of the sensor at a time.
Travel PHOTOGRAPHY
The RF-S 18-150mm lens is an excellent lens for travel photography. I used it mounted to my Canon R7
95 % of the time on a recent trip to Scotland and it handled the job very well. The other 5% of the time I used my 10-18 lens for super wide photos of architecture and landscape photos.
Scotland Highlands
Canon 18-150mm lens @ 35mm
The travel photo above of the Scottish Highlands was photographed with my lens shooting through the window of the motor coach as we were traveling toward Loch Ness.
WILDLIFE PHOTOGRAPHY
The 150mm telephoto focal length is good for shooting wildlife that is not too camera shy. On Canon APS-C cameras, like the 80D, 90D, t7i, t8i, SL2, SL3, R7, and R10, the telephoto angle of view is the same as you'd get with a 240mm lens on a full frame camera.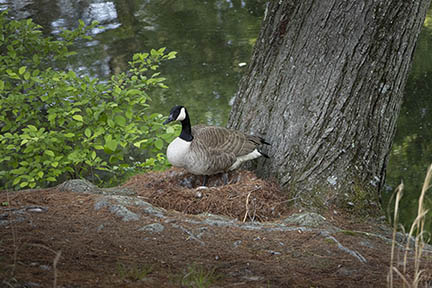 The 18-150 lens @ 150mm.
Photographed at a safe distance not to disturb
A longer zoom lens would give you this
without having to crop in editing software
This make the 18-150mm lens adequate, but not ideal, for wildlife
photography. Long distance wildlife subjects are better photographed
with a 400mm lens or longer. Large-sized wildlife, like lions, tigers,
giraffes, and elephants can be adequately photographed with this lens.
I
zoomed the lens in as much as I could for the frog photo below, but it was positioned in the middle of the muck in this pond. I
had to crop the original composition tighter in Photoshop to get the
resulting photo below.
Cropped frog photo taken with
Canon R7 and RF-S 18-150mm at 150mm.
The RF-S 18-150mm f/3.5-6.3 works very well at your local zoo for photographing large wildlife like tigers, giraffe, and zebra.
NIGHTTIME PHOTOGRAPHY
With a maximum f/stop of f/3.5 at its widest angle focal length of 18mm, this is not a good lens for shooting the nighttime stars. Lenses that can open up to f/2.8 are slightly better and f/2.0 or faster are usually chosen for the best results with nighttime photography.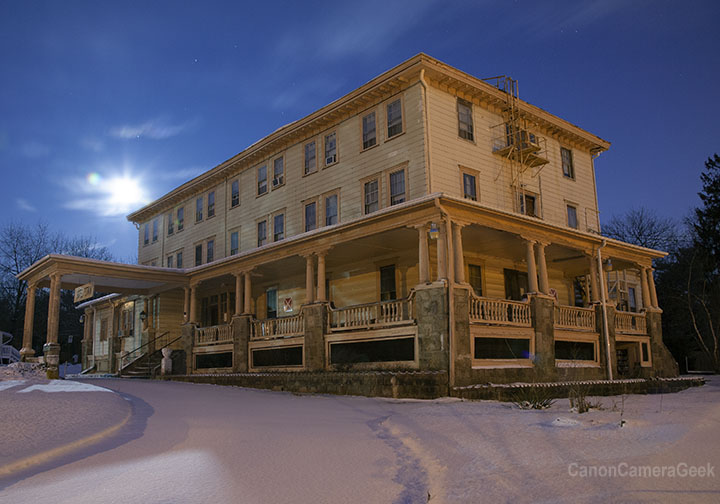 Mysterious Hotel
Nighttime photo taken for 30 seconds @ f/7.1, ISO=250
In the nighttime scene above, I shot at wide angle and an aperture of f/7.1 to make sure everything was in sharp focus. The RF-S 18-150 lens works just fine for this type of shot.
Conclusion For Usability of The Canon RF-S 18-150mm Lens
The versatility of its zoom range and the moderate price tag of the Canon RF-S 18-150mm f/3.5-6.3 STM lens make it worth the money.
Although the larger RF lenses are usually used on the full-frame Canon mirrorless cameras, this compact and light RF-S lens makes sense to use on APS-C and full frame camera bodies because it's convenient and versatile to use.
Have a blast. Shoot a Canon!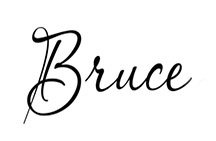 Bruce Lovelace is the publisher of Canon Camera Geek. Read more about him on the About Page. He also publishes how to articles and camera gear reviews at the Photography Tips website.
View some of Bruce's photos on Instagram  and Flickr.   Join the tribe of followers on YouTube. Bruce also runs photo workshops and provides 1 on 1 digital photography coaching.
---