The Amazing Canon Rebel t3i
It's real easy to look at this photo and the current price of the Canon Rebel T3i and get teased into buying one based on its impressive sensor, processor and features. Canon sold a ton of these cameras since its release in early 2011. It was the most popular camera used on Flickr for quite some time and that's one humongous website.
Deciding If You Should Buy A Canon Rebel t3i in 2023 or 2024
Here is what you should consider:
PRICE: If you want to enter the DSLR camera world as cheap as possible, the t3i is a great option. You can still buy used Rebel t3i cameras for less than $200.
FEATURES: They're outdated compared to cameras that have been released in the last 3 years. The feature of the t3i are good, but not great.
SPEED: The t3i is not a fast camera, but you may not have a need for speed. If you're shooting landscapes, macro shots, and candid photos, you don't need super-fast focusing.
QUALITY: Image quality is good with the Canon t3i, but not so great if you're shooting in dark, dimly lit situations. Newer cameras will give you a slight advantage in color accuracy and higher dynamic range.
After all, it's got an 18 megapixel sensor, a ginormous 3 inch screen.
The powerful Canon Digic 4 processor and an absurdly affordable price. It's got features that people really want. It isn't outrageously big.
It follows a design that is one of the best selling digital SLR cameras appropriate for photography enthusiasts as well as photography beginners.
If you are looking for some of the latest technology packed into an affordable package or are a movie shooter with a limited amount of money to spend, the Rebel T3i might be for you.
Do you want to shoot video with your Canon Rebel T3i?
The video output can be in 1080 or 720; there are several frame rate options and you can control exposure too. At 1080p video tests are described as sharp with good detail and smooth and natural motion capture.
You also have a digital zoom feature with the T3i, so you can do smooth zooming while shooting video and video snapshots are easy to do in Movie Mode.
The Canon Rebel T3i Camera Grip
The articulated, rotating screen gives you the
ability to compose and shoot at non-direct angles.
This is one of the
biggest improvements over the Canon Rebel T2i. For me personally I really dig the Rebel T3i's grip.
It's got a great
shape and it's functional design make you feel like a shooting
pro-photographer. I do  have one cautionary comment about the grip if you have large hands. It may feel a little too small.
The space between the grip and the t3i body is not real wide.  It's like a tall guy driving a Chrysler Town and Country. It's doable, not just the best fit.
If you are a fan of Canon cameras you will easily adjust to the small changes that Canon makes in each DSLR as they listen to buyer feedback and pay attention to Canon camera reviews.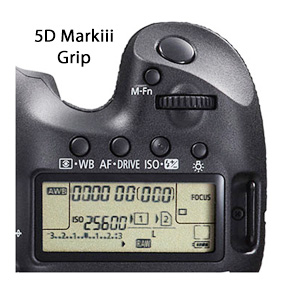 You can see the difference between the Canon T3i grip and the Canon 5D Mark iii grip.
The Canon EOS 600D-Rebel T3i uses the EF lens mounting system, so it is fully compatible with Canon EF-S and EF camera lenses.
The APS-C size of the sensor means it's a 1.6x crop factor. You can set the Canon Rebel T3i on AI Focus and it will decide whether to use AI Servo or One-shot focus.
If you prefer, you can set it for constant One-Shot or AI Servo for moving subjects. When you press the Focus area button, you can use the keys to manually select a single point to focus with or you can use the finger dial to go through the various focusing options.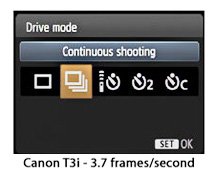 The Rebel T3i is rated at achieving 3.7 frames per second when set to continuous shooting mode. The independent tests confirm that's about what you get.
That's not as good as a pro sports shooter might need, but it's pretty good for the average soccer mom or Little League baseball parent to get some good shots of their kid swinging the bat.
The Canon T3i also has 2 to 10 second self-timer modes and an infra-red (IR) remote control mode.
There are a ton of Canon Rebel Accessories available too. If you like the idea of using an external flash, the rebel T3i lets you control flash units remotely.  
One of the other interesting accessories to consider is the Canon BG-E8 Battery Grip.  You can double your battery capacity and improve camera functionality when shooting in vertical "portrait" orientation. 
In Japan Canon markets the T3i as the Kiss x5 and elsewhere in the world it's known as the Canon EOS 600D.
ABOUT THE CANON t3i EXPOSURE
The T3i uses a 63-zone, double layered metering system and has 4 metering modes.  Digital camera technology is a thing and this Rebel is no exception. I created my own satisfaction index for Canon Camera Geek readers. It is a percentage of 4 and 5-star ratings of the Rebel T3i buyers from amazon.
Over 91% of buyers of the Canon Rebel T3i rated it a 4 or a 5 out of 5. That's a pretty high result. Usually dissatisfied customers are more likely to post a review on a camera than satisfied reviewers.
If you are looking for a canon cameras instruction manual for the T3i, here is the link to get this free Canon Camera manual:  Canon T3i Manual.

A great source on how to take a serious shortcut on learning to get the most from your Canon T3i is an eBook: Canon T3i Experience
that's available on amazon.
Canon Rebel t3i
The Rebel t3i is still a worthwhile value because you're getting access to a capable DSLR at a very cheap price now that so many newer Canons are on the market. If it's to old for you consider one of the updated Canons advertised below.
As an Amazon affiliate Canon Camera Geek receives a small commission from qualifying purchases, at NO added cost to you.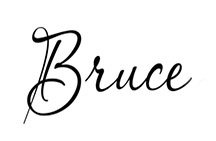 Bruce Lovelace is the publisher of Canon Camera Geek. Read more about him on the About Page. He also publishes how to articles and camera gear reviews at the Photography Tips website.
View some of Bruce's photos on Instagram  and Flickr.   Join the tribe of followers on YouTube. Bruce also runs photo workshops and provides 1 on 1 digital photography coaching.
Canon Geek on Google My Business
---