Is The Canon R7 Image Stabilization Any Good? How I tested The R7 IBIS
Does the Canon R7 have image stabilization, is it any good, and how do you use it? This post will answer your questions about the R7 In Body Image Stabilization.
The Canon R7 camera has 7-stops of  image stabilization. This sophisticated technology, nicknamed IBIS, enables you to take sharp, hand-held photos without blur at very slow shutter speeds when your subject is dimly lit. The IBIS on the R7 will work with EF and RF lenses. 
Look at the comparison of the two photos of my computer screen below. Both were hand held for one full second. Although it's not razor sharp, the photo taken with image stabilization is usable. That's incredible technology!
1-second exposure
(with Image Stabilization)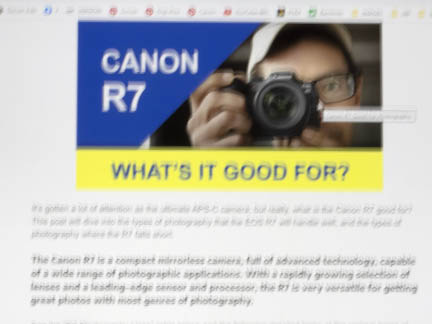 1-second exposure
without Image Stabilization)
The R7 gave me a usable shot using the IBIS where I otherwise would have gotten an unusable photo. This is a big reason why I recommend the Canon R7 over the cheaper R10. That, plus the remarkable results I got when I tested the R7 high ISO performance make the R7 worth the money.
Think of In-Body-Image-Stabilization for your camera as anti-lock braking for your car. You don't use it all the time. You don't need to know how it works. You're just grateful how wonderfully it works when you need it.
---
---
R7 Image Stabilization Test
Image stabilization test target
Here's how I tested the In Body Image Stabilization of the Canon EOS R camera.
I shot 3 photos at each successively slower shutter speed and used the average image to compare.
To make it more scientifically valid, I used a high-resolution test target to make it easy to evaluate image sharpness using a series of slow shutter speeds.
I used the 18-150mm kit lens @ 150mm Zoom (240mm full frame equivalent) and calculated the stabilization f/stops using the reciprocal rule of thumb. 
I achieved 6-stops of image stabilization with the R7.
Of course, this is even more valuable when you're shooting with your R7 and one of the lenses that does not have its own image stabilization built in. See the list of solid R7 lenses you can choose from.
When To Use image stabilization On Your R7
Use your IBIS when you are shooting with your R7 in your hands and your shutter speed is slow. How slow, you ask?
For a long time there has been a good rule of thumb to go by to determine the slowest shutter speed you can use (without stabilization) and still get a sharp hand held photograph. The rule is simple. Take the reciprocal of the focal length of the lens you're shooting with.
It's easier to understand by looking at a simple example. If you're shooting with your lens at a 50mm focal length, the slowest shutter speed to use handheld would be 1/50 second. That should give you reasonably sharp photo, especially if you use good technique. See my helpful guide on holding your camera the right way on Pinterest.
Also, remember accurate focusing is the second major component for getting sharp photos. For more on that, see my post on the R7 focus tracking.
When Not To Use image stabilization On Your Camera
TRIPOD: Don't use image stabilization when your camera is mounted on a tripod. Some test results show an actual decrease in sharpness as your IBIS tries to adjust for movement and there is none.
PANNING:  Panning your R7 with your subject as it moves across in front of you is  a technique to intentionally blur the background behind your subject. This creates the feeling of movement. See the example below.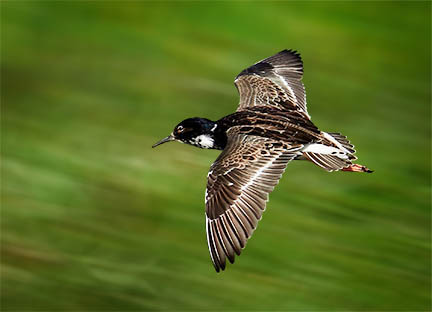 Panning with the movement of your subject
Somewhat slower shutter speed
(No image stabilization)
MOVING OBJECTS:  Image stabilization is intended for you to use it to capture sharp images of stationary subjects at slow shutter speeds. Moving objects will be just as blurry, in some cases blurrier when the IS turned on.
How To Turn The IBIS Off On Your Canon R7
There are two easy methods to turn the IBIS off and back on again with your EOS R7 camera.
MAIN MENU: Tap the "Menu" button in the top left corner of the back of your R7. Select the icon of the camera. Select the 8th column. Select the "IS (Image Stabilizer) mode.
QUICK MENU:  For digital image stabilization (not optical) when you're in video mode, tap the "Q" on the back of your R7. Select the "(hands)" almost at the top on the right.
R7 IBIS Summary
According to the official Canon website the R7 achieves 7-stops of stabilization based on the CIPA standard with RF-S 18-150mm F3.5-6.3 IS STM at a focal length of 150mm. I did not get those exact same results according to my own tests, but I was stilled thrilled with how well the in body image stabilization technology did work.
My 63 year old hands and arms are not as steady as they were when I was in my 30s.
In practical real-life shooting situations I find the performance of the IBIS remarkably useful. Unfortunately for tripod makers, this is not good news, but it's great for you and for me.
Have a blast. Shoot a Canon!
Products That I used For This Article:
As an Amazon affiliate Canon Camera Geek receives a small commission from qualifying purchases, at NO added cost to you.
---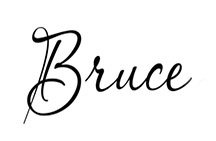 Bruce Lovelace is the publisher of Canon Camera Geek. Read more about him on the About Page. He also publishes how to articles and camera gear reviews at the Photography Tips website.
View some of Bruce's photos on Instagram  and Flickr.   Join the tribe of followers on YouTube. Bruce also runs photo workshops and provides 1 on 1 digital photography coaching.
---
---
---
---