Here's My Surprising Results From My Own Canon R7 ISO Performance Test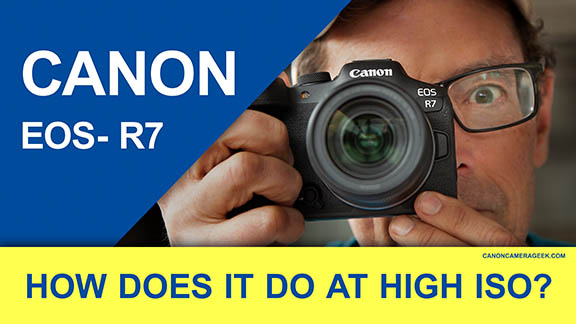 Let's face it. The biggest weakness of crop cameras with high pixel count is their digital noise level and sharpness at high ISO settings. What about the performance of the Canon EOS R7 at different ISO settings? This post will answer your questions.
Bottom line. What's the overall ISO performance?
The Canon R7 produces sharp, detailed, noise-free images even at moderately high ISO settings. The newly designed R7's 32 MB sensor, coupled with the Digic 10 processor, produces very little noise at ISO 3200, and moderate noise with solid sharpness at the extreme ISO of 12,800. At 25,600 and 32,000 images have noticeable noise, but are still useable.
I found the high ISO performance to be superior than my Canon 90D, despite having he same pixel count and sensor size. Remarkably, I found the noise levels to be comparable to, perhaps even better than, the full frame EOS R noise levels. 
After buying, testing and playing around with a full sized Canon R for more a year, it was time I tried one of the newer Canon mirrorless camera with a smaller crop-sized sensor. I've always been paranoid about noise when so many millions of tiny pixels are squeezed onto a smaller surface area of the smaller sensor.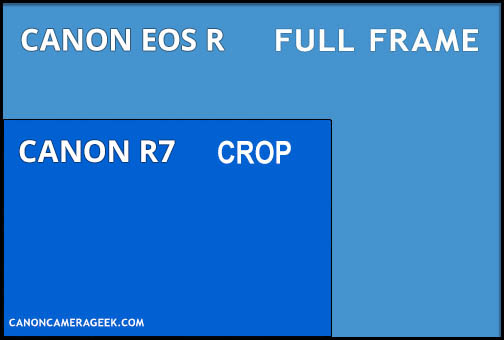 Canon R7 vs EOS R sensor size comparison
Larger individual pixels are better at collecting light. When you pack 32 million pixels packed onto a crop sensor, you know the pixels are tiny. In the early days of digital photography this was a recipe for disaster. 
Why Use Higher ISO Settings
You're probably wondering why you would want to adjust your ISO setting. After all, these new cameras should be able to handle everything automatically, right? See the article on what kinds of photography the R7 is suited for here.
Here is the lists of the advantages and disadvantages of setting your ISO to a higher setting.
Advantages of High ISO Settings
Setting your ISO to a higher number can make it possible to take photos you couldn't have taken at all, or facilitate a big improvement in how you get a certain effect in your photo
DIM LIGHTING: Higher ISO settings enable you to shoot in less than ideal lighting situations. These include indoor photography, shooting at dawn or dusk, or a dreary, cloudy day. It may also prevent you from having to use a flash or a tripod.
SHUTTER SPEED: When you're photographing sports, wildlife, or any other fast-paced action, you may want to freeze the action. Higher ISO settings enable you to use faster shutter speeds for perfect sharpness.
APERTURE: With certain subjects you may want to use an f/stop number to insure that all parts of your photo's composition are in sharp focus. High ISO setting enables you have a small lens opening and a larger range of things in focus.
The surprisingly good high-ISO performance of the R7 is one of the top reasons this camera is worth the money.
Disadvantges of High ISO Settings
The question now comes up of why you wouldn't just leave your camera set to a high ISO number all the time. There are several reasons why a low ISO setting will serve you better.
IMAGE QUALITY:  The biggest disadvantage, and most discussed topic when it comes to using a high ISO setting, is the loss of image quality. Think of digital noise as graininess or static interference. The more you amplify the signal from the sensor with higher ISO settings, the more the image degrades. 
BLUR: For creative photography, you may want to intentionally incorporate motion blur in your photo. In order to use a slow shutter speed you may have to use a lower ISO setting. Think of waterfalls, light trails photos or motion-implying photography.
DEPTH OF FIELD: There are situations where you want to achieve an out-of-focus background to make your subject stand out more. This is a very popular technique for portrait photographers. A large aperture is needed for this and a low ISO setting will help you use one.
How I Did The R7 High ISO Test
Just like I did with my R7 Image Stabilization test, I did a combination of scientific and practical, real-world testing of the R7 for it's ability to perform well using high ISO settings.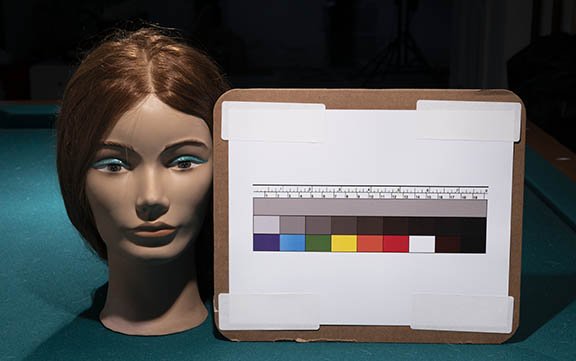 High ISO performance test target
SUBJECT: Mannequin and Grayscale/Color chart. 
SETTINGS: Aperture priority and constant f/stop of f/9 on every exposure. 2-second self-timer. Successive ISO setting changes from100-32000.
EQUIPMENT: Canon R7 camera. RF-S 18-1500mm STM lens. Sturdy tripod.
LIGHTING: Overhead billiard table lights. I intentionally used a high contrast lighting, included shadow areas in my test photos where noise shows up the most. I see too many camera review sites test ISO with flat shadowless lighting. Noise won't show up as much and it's not a good test of a camera.
REVIEW: Comparison of image quality between the different ISO settings is subjective. I shot at 10 different ISO settings and compared the images side-by-side at 200% magnification in Photoshop on a 25 inch high def screen.
You can see the test results for 3 different ISO settings below. Note that you are looking at a 200% magnified pixel-peeping photo. It's impressive that there is no significant noise, whatsoever, even in the shadow areas at ISO 1600.
High ISO noise and detail comparison @ 200% magnification.
Canon EOS R7 @ ISO=1600 on left, ISO=6400 in middle, ISO=25600 on right.
Canon R7 ISO Q and A
The Canon R7 is good for shooting photos in low light situations for two reasons. First, it focuses well in dimly lit situations, particularly if you are using a fast lens. Secondly, the R7 has excellent image quality, even in low light conditions when you use a high ISO setting.
With all other variables being equal, in terms of one specific ISO setting for the best image quality on the Canon EOS R camera, you should set your ISO to 160. For practical purposes, any setting between ISO 100 and ISO 1600 is good to use and will give you images with no appreciable noise or lack of sharpness.
The native ISO range of the Canon R7 is ISO 100-32,000, with one expanded setting of ISO 51,200. The BASE ISO of this camera is ISO 100, the lowest ISO setting you can use.
Canon R7 ISO Test Summary
Remarkable progress has been made in improving the low light/high ISO performance with digital cameras in the last few years. The Canon R7 is no exception. My advanced point and shoot G1X Mark II image quality fell apart at ISO=400. My 70D was good up to ISO=1000 and my 90D up to ISO=1600. The R7 image quality is superior at even higher ISO settings.
You can see the obvious trend in improving high ISO performance as material design and processors have advanced. Coupling the 32 MB sensor and Digic 10 processor, with a fast burst rate of 15 fps, advanced focus-tracking abilities, and a relatively modest price tag, Canon really nailed it perfectly with the EOS R7.
From the reviews I read, I wasn't expecting the high ISO performance test to give me as good of results as it did. I was pleasantly surprised for a change. It's a great time to be involved in photography!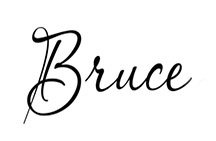 Bruce Lovelace is the publisher of Canon Camera Geek. Read more about him on the About Page. He also publishes how to articles and camera gear reviews at the Photography Tips website.
View some of Bruce's photos on Instagram  and Flickr.   Join the tribe of followers on YouTube. Bruce also runs photo workshops and provides 1 on 1 digital photography coaching.
---
---
---
---