5 Best Canon Lenses is For the Dogs. Guide To Choosing The Right Lens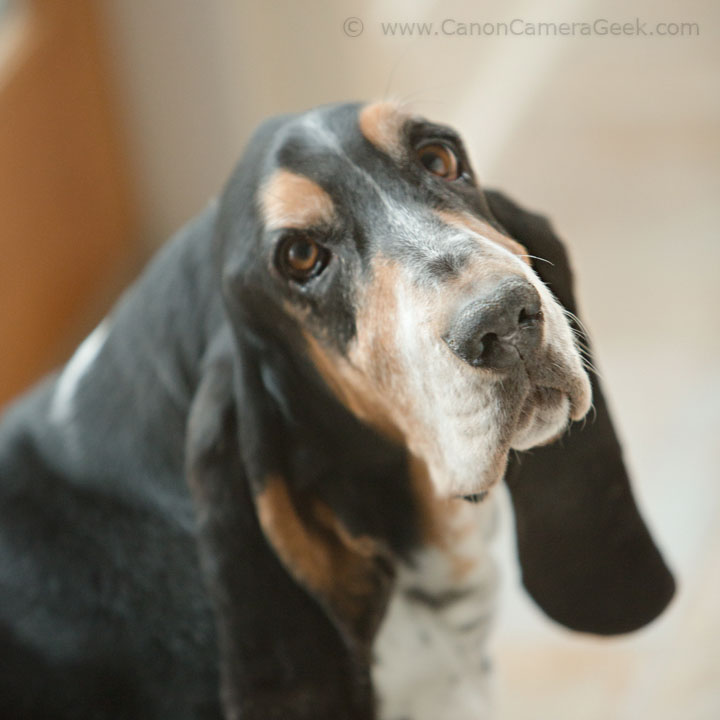 Best Canon lens for headshots of dogs is a medium telephoto lens.
Looking for some insight into the best Canon Lenses for dog photography?
There's a collection of good Canon Lenses on the roster, many of which will give you great pet photography. It's all a matter of how you want to photograph your dog and the environment you;re shooting in that will determine the best lens to use. Here's the list for you to explore of the 5 Canon lenses that are good for dog photography. 
Canon 24-105 f/4.0
Canon 70-200 f/2.8
Canon 85 f/1.8
Canon 400 f/5.8
Canon EF-S 18-135 f/3.5-5.6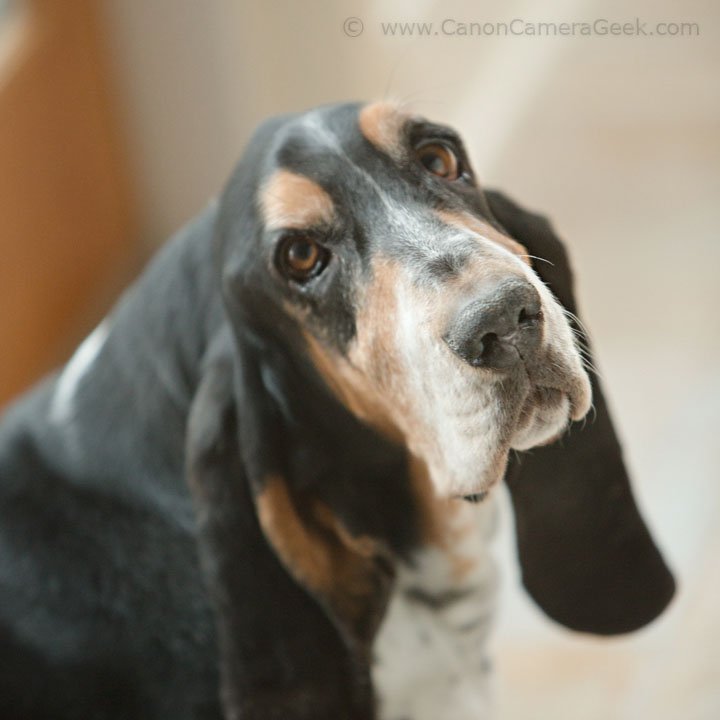 Taken indoors with the Canon 70-200mm f/2.8.
A better lens for the dog choice would have been the 42-105mm f/4.0
It was taken at f 2.8 at a fairly close distance, so the depth of field is quite shallow.  I focused on the dog's nose and at a such a wide open aperture, with the 70-200 lens, his eyes are not at the same sharpness level as his nose.
1. Canon 24-105 f/4.0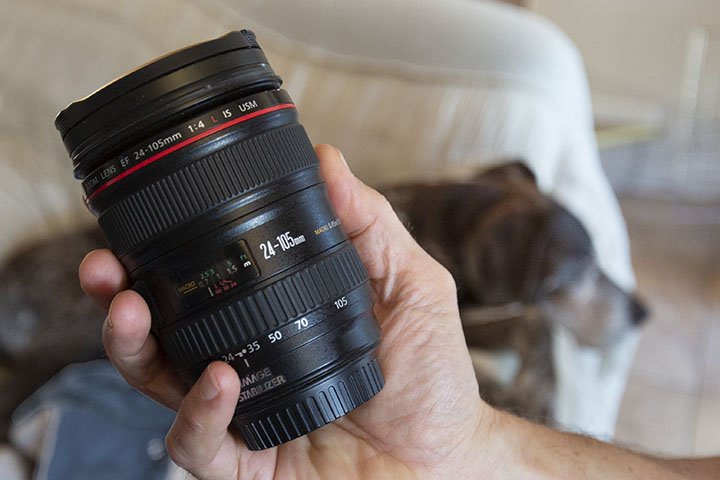 Canon EF 24-105mm dog photography lens.
Thanks to my bride for taking this photo!
The Canon EF 24-105mm f/4.0 lens is my top pick if you are looking for just one lens to use with ALL of your dog photography. The 5x zoom range makes it very versatile to capture a broad range of dog shooting situations. On a full frame camera it gives you a nice wide angle to moderate telephoto range which is excellent for all indoor dog photos and also pretty good for outdoor canine camera fun.
If you're shooting with an APS-C "crop" Canon, you might prefer the EF-S 17-85mm f/4.5-5.6. That gives you an angle of view the sames as a 28-136 full frame lens-almost exactly the same as the 24-105, albeit a slightly slower, but much more affordable lens.
The 24-105mm Canon lens is good for taking "doggie parts" photos, like the one below. This is more typically done with "tiny parts" photos of newborn babies, but it's a fun subject to play around with and expand your creativity.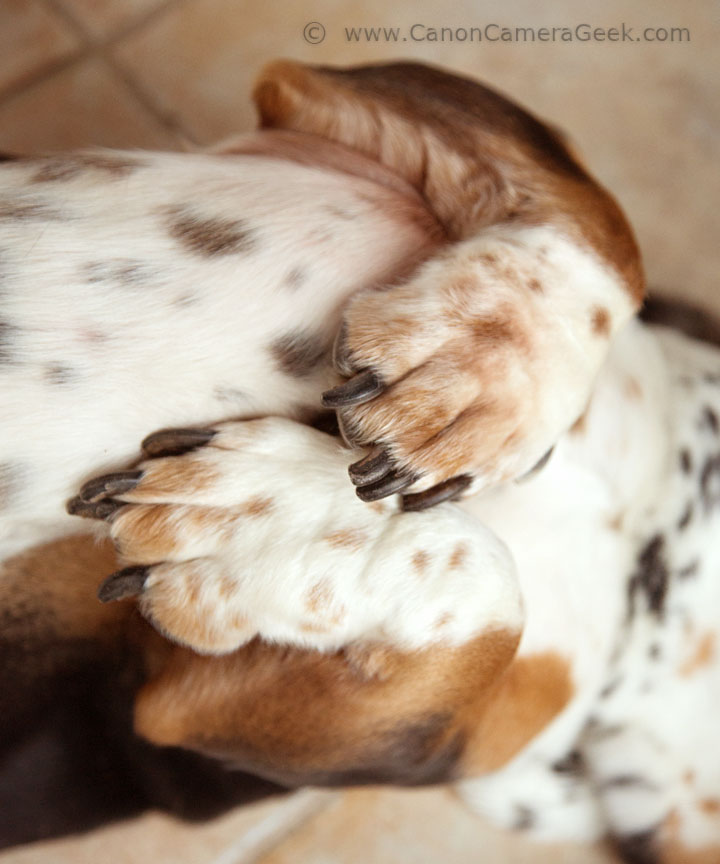 "DOG PAWS"
Canon 24-105mm lens at 65mm, wide open at f/4.0.
Choose a longer telephoto lens for shooting close-up details shots of your dog without getting the spatial distortion you would with one of your wide angle lenses.
2. The popular Canon 70-200mm f/2.8 as a dog photography lens.
This is the Canon lens most portrait photographers have in their lens arsenal and it can be a great lens to use on dogs too. It's sharp. It's fast. A ton of them are out there in the marketplace. A cheaper compromise would be the f/2.8 versions smaller sister, the Canon 70-200mm f/4.0
Photo of dog. Canon 70-200mm at f/2.8, 1/100 second, ISO of 1600.
The dog photo above was taken with the Canon 70-200 f2.8 at f2.8 at 1/00 second at ISO 1600. Hand held and zoomed to 200mm, it's not razor sharp, but the client still loved this portrait of this adorable basset hound, taken in their kitchen. 
3. The canon 85mm f/1.8
Canon EF 85mm f/1.8
This makes the list as one of the best Canon lenses for dog photography mostly because it's such a great lens, period.
It's been on the Canon lens roster since the early 1990s and hasn't changed much because Canon really found a good mix of affordability, lightweight, performance, speed and size.
It'll work well with a full frame camera body or your smaller APS-C crop cameras and is easy to use anywhere you go.
4. super telephoto doggy lens
Okay, I admit it. There's probably no other photographers that would rate this as a top 5 lens for photographing dogs. Because of its strong magnification, you would only use this for outdoor dog photography. The Canon 400mm f/5.6 is a great lens for a limited amount of situations.
"RUNNING ON TWO LEGS"
Canon 400mm f/5.6
Photographing dogs in a large fenced in area is one of the situations where this Canon prime lens shines. This lens would double for you as a wildlife and birds lens too.
5. The EF-S 18-135mm ULTIMATE "kit" lens
True, the 18-135mm isn't particularly fast. Yes, it does have significant barrel distortion at the wide angle settings. I still love it paired up with any Canon crop camera-I now pair it up with my Canon 90D- because of its super versatility and affordability.
Canon EF-S 18-135mm F/4.5-5.6 at 124mm for 1/8 second at f/5.7 (Image stabilization used)
I think it's the best Canon lens for dog photography because it can be used inside in tighter situations AND outside where the environment is much more spacious. The 7.5x (18mm to 135mm) zoom range makes it a solid choice for a lens to use form most genres of photography and certainly for photos of man's best friend, dogs.
One of the strongest features of this lens is its remarkable IS, image stabilization. Canon says it stabilizes up to 4 stops. I shot the above photo of the black dog at 1/8 second and it was very sharp. So, despite the fact that it's a comparatively "slow" lens, you can use much slower shutter speeds in those dimly lit situations and still get sharp photos of your dog.
creative lens use from dog photographers
Although I've photographed a variety of dogs, while using many different lenses, I'm not a dedicated pro dog photographer. I'm sure you'll be inspired by looking at a few samples of some creative use of lenses with these pro dog photographers.
DOG BREATH PHOTOGRAPHY.  As the name implies, these canine camera captures are up close and personal, taken with wide angle lenses. 
GOOD DOGGY PHOTOGRAPHY. Here you find inspiration for using a variety of coal length lenses, all taken in the great outdoors.
PUPTRAIT. For inside the studio, this dog photographer relies mostly on telephoto lenses and controlled lighting to create professional dog portraits.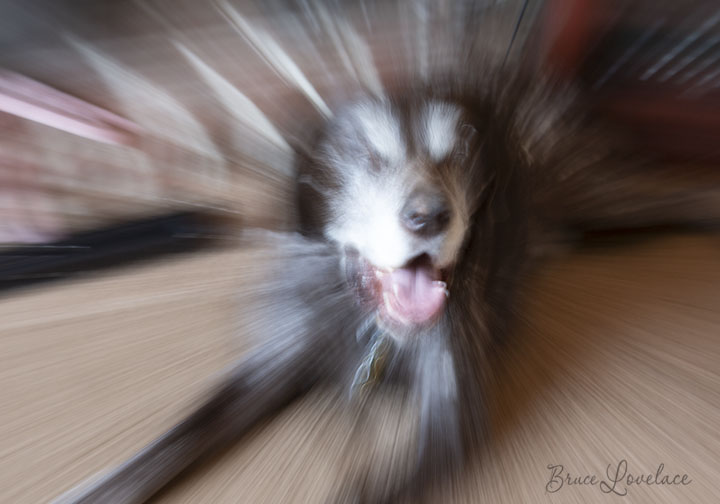 Zoom your lens while using a slow shutter speed
As an Amazon affiliate Canon Camera Geek receives a small commission from qualifying purchases, at NO added cost to you.
Thanks for visiting my website. I hope you found this post helpful. Have a blast. Keep shooting your Canon!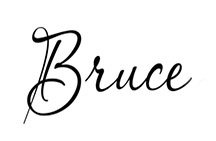 Bruce Lovelace is the publisher of Canon Camera Geek. Read more about him on the About Page. He also publishes how to articles and camera gear reviews at the Photography Tips website.
View some of Bruce's photos on Instagram  and Flickr.   Join the tribe of followers on YouTube. Bruce also runs photo workshops and provides 1 on 1 digital photography coaching.
---